Automotive students in Gering practice their manual skills by repairing cars for needy community members.
Work on the vehicles will be done by students enrolled in Gering High School's Auto II class, an advanced automotive course led by industrial arts teacher Zzyzx Brown. Brown is a minor alumnus who took industrial arts courses while at GHS and is grateful he was given the opportunity to return and work with future mechanics.
The course involves a small amount of lectures and bookwork to help students understand fundamentals such as how engines work, but a high priority is given to getting students to get their heads under the hood and get their hands dirty.
"More than 75% of the teaching is hands-on," Brown said. "Students learn more when we actually work on something. While they work, I walk around and walk them through step by step."
Six vehicles were at work at the school's workshop as of Wednesday morning, and each had a small team of students working together to diagnose and fix the problem. One pair replaced spark plugs while another group figured out why a vehicle's headlights weren't working properly. Some even worked to rewire one of their classmates' trailers.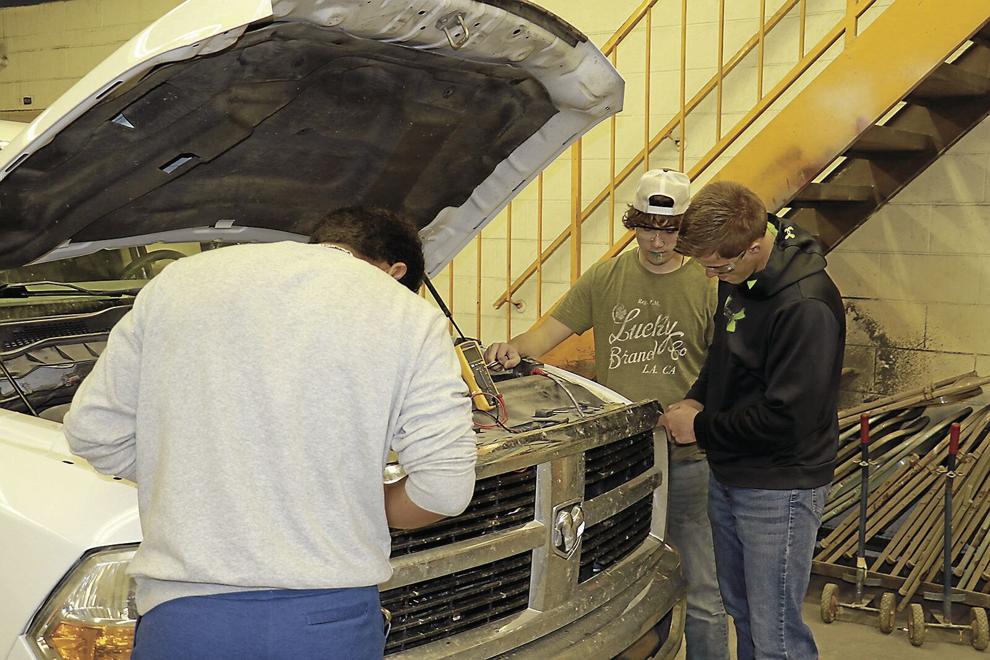 "We deal with a lot of things," Brown said. "We're even looking at newer stuff like the parking sensors on a 2020 Ford to a '64 Mustang next door that we removed the transmission from. We cover a very wide range of vehicles."
Brown said trading courses like this one are critical because they help kids discover viable career paths that require different skills and mindsets.
"Not every student is really good at math, English or science," Brown said. "But mechanics are in short supply. If one of those kids wants to be a mechanic, they can be hired pretty much anywhere."
Even students who don't intend to work as professional mechanics can learn important life skills from Brown's classes. They learn to perform routine maintenance on their own vehicles, which can save thousands of dollars over their lifetime.
"It teaches them to be independent and it also teaches them a lot of critical thinking skills. You must diagnose the vehicles, figure out what's wrong with them, and move on from there. It's such a good outlet for students. They work with their hands and many of them are better at it."
Typically, the cars that students work on are owned by family members or someone who reaches out to the school, but recently the automotive class has partnered with the Community Action Partnership of Western Nebraska (CAPWN).
"CAPWN approached us because they wanted to give us a grant to help people who need their cars repaired," Brown said. "Mr. (Mario) Chavez (GHS Director) and I thought this was a fantastic opportunity and it helps both parties. Our children are able to see, diagnose and fix various problems and they get the parts and labor for free."
So far, CAPWN has submitted 17 cars to GHS students for maintenance and repair, and they have completed work on 11 of them. Brown said this is because his students wanted to do whatever they could to help members of their community.
"These kids get very excited when they see the cars. They ask, "Is that a CAPWN car? Let's fix it as soon as possible." They really believe in it," Brown said. "They like being able to help their community and it's their way of giving back."
Brown said it makes his job very rewarding when he sees his students commit to helping their community and witnesses the aha moments when they really understand how something works.
"It's one thing we do for our community to keep everyone moving. A strong community is a good community, and whenever you can help someone, you should."