Ancel Bhagwandeen's latest invention, a hybrid electric vehicle (HEV) battery regeneration device that he calls "The Battery Alchemist," has won world first place for climate innovation in the global green business competition, ClimateLaunchpad.
Bhagwandeen was placed in the global semi-finals of the competition last month. His invention is the first clean energy project from Trinidad and Tobago, which has earned a place in the largest global competition for climate protection projects.
Bhagwandeen is now in the last 16 for the world's best climate innovation to be announced on November 3rd. No other Caribbean country has come this far in the decade of this global competition funded by the EU and Bank of America and others.
The inventor/industrial engineer recently spoke to the Express about his latest achievement, the impact of his invention and his passion for creating sustainable technologies tailored to the development needs of the Caribbean region.
"It is both surreal and exciting to be the first from T&T and then the first from the Caribbean to create the world's leading 'sustainable mobility' technological project/invention for climate change mitigation and sustainability," said Bhagwandeen.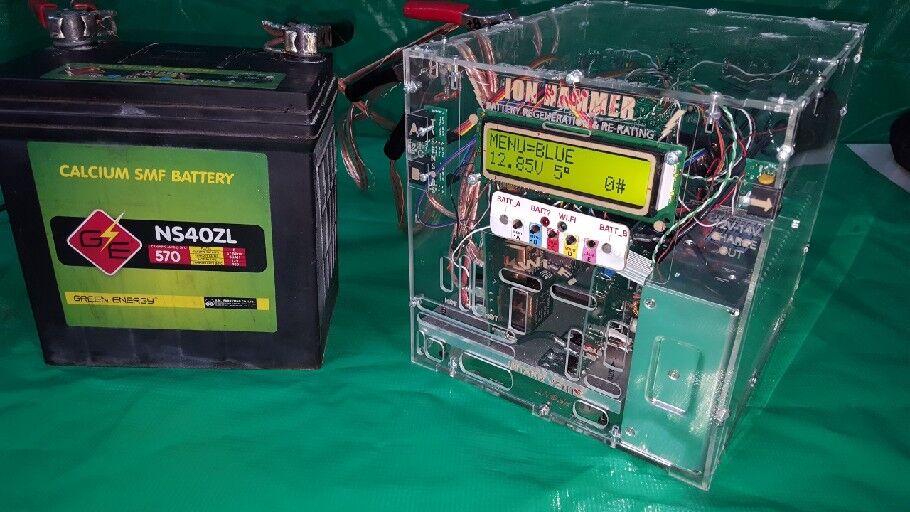 He said its success could help spur economic growth. "This win can only help bolster our rankings in the global innovation index, which can then make T&T more attractive to potential foreign investors and fuel economic growth," he said.
He added: "Hopefully this HEV battery regeneration invention can now be funded to become a fully exportable commercial innovation, whether this support comes from local sources or foreign investors, it can only benefit our region." In the next phase, via the climatelaunchpad.org platform, the invention will be 'accelerated' through its network and linkages into commercial reality."
hydroponic tower
Garden System ► Subtitles ◄
Bhagwandeen's latest invention follows the invention of his solar hydroponic tower garden system implemented for smart farming and incorporating the first African electronic snail repellent system.
Bhagwandeen said The Battery Alchemist is a portable, low-cost device suitable for the Caribbean region. It requires little training or deployment cost. It will reduce HEV battery replacement costs by 80 to 90 percent for the general public. It will be available in mid-2023 and should cost around $2,000 for the smaller unit.
He explained: "Technically, it is an electronic means that uses artificial intelligence/machine learning to assess, repair and electrochemically repair dead hybrid electric vehicle batteries. It is based on the principle of electrosonification, which uses a variable process called pulse width modulation to excite/resonate battery electrodes to break down and resolve the stubborn chemical imbalances that cause progressive battery defects.
He said the original battery regeneration concept arose due to the rising cost of replacing starter batteries in cars and to create indigenous technology-based solutions as a business model.
"I have focused on the second life of rechargeable batteries and the efforts to overhaul them, as such batteries have become the energy storage foundation of our society and are found in all mobile devices, electric vehicles and most renewable energy solutions," he said.
He added: "My previously developed vehicle starter battery regeneration solution has been recognized three times, twice by the T&T government, once by the Caribbean Climate Innovation Center and recently by the BASEL conference based in Switzerland, so the new HEV Battery development the development of this invention when technology changes in battery types take place."
Work in progress ► Subtitles ◄
Bhagwandeen's invention is still a work in progress. He explained that while the 2020 proof-of-concept prototype was independently validated for function by the UTT Engineering Faculty, his attempt to apply for funding to create the minimum viable product was approved in August 2022 by Cariri's (The Caribbean Industrial Research Institute) Future was rejected from the innovation grant program.
But he said there is hope. "This Battery Alchemist project has also received the support of the T&T Energy Chamber Conference as well as the University of Applied Sciences in Joanneum, Austria and LGChem, USA (largest manufacturer of EV batteries). It motivated me to apply for the global ClimateLaunchpad competition recently," he said.
He added, "The fact that the project has managed to reach ClimateLaunchpad's global competitive level at the national, Caribbean and regional levels is encouraging as it is now recognized as one of the most important clean energy projects in the Caribbean.
"This is the first time T&T has been recognized by ClimateLaunchpad, the largest global climate innovation competition."
Bhagwandeen hopes to gain access to potential independent investors and partners on the global stage as engagement is now achieved.
"I would have preferred the trip to have included some in-kind T&T innovation support, but so far it seems that wasn't meant to be anyway. With such support, we would have made good progress towards the product launch.
"However, on a more positive note, the project is still under review by another, more technology-focused, innovation accelerator platform based in T&T.
"Hopefully their view will be more in line with the international assessment of the effort and we can accelerate the results for the benefit of T&T," he said.
Other inventions
In the coming weeks, Bhagwandeen will commercialize T&T's first 100% vertical tower garden, growing 105 crops in the space occupied by a single person standing, with no plumbing, wiring, electricity or infrastructure and storm/flood proof.
"It's fully automated with a digital 'brain'/display driving the system. It was recognized by the UNDP (TT) Bureau in 2021 as one of the top four efforts for 'green innovation'," he said.
He said: "The first seven units have been sold and are going to training institutions and secondary schools to educate our young people in modern, low-labour urban farming technology and farm entrepreneurship. The focus is on building local manufacturing to maintain an affordable price that is accessible to the average household with a return on investment of less than a year.
Bhagwandeen has also developed an electronic African snail deterrent that can be incorporated into these units as a DIY "kit" to prevent crop damage.
He also has three other products/inventions on the horizon: electronic pan sticks; and Sure Start, a military vehicle starter battery add-on that eliminates dead batteries and makes the roads safer and more reliable. The prototype has already been tested and the third invention is an inexpensive DIY kit that physically deters African snails, nudibranchs and snakes from entering your property.