Summit County — The Colorado Department of Transportation and contractors Kraemer North America and Elam Construction have completed two major projects on the I-70 mountainous corridor between Silverthorne and the Eisenhower Johnson Memorial Tunnel. Kraemer North America teams have completed work on I-70 Structure Replacement: West of the EJMT project and Elam Construction teams have completed resurfacing east of Silverthorne. Representatives of both project teams, CDOT and agency partners met on Wed October 12th to celebrate both projects. Photos and videos of the event and completed projects are available via the media kit.
"These projects are excellent examples of a long list of safety improvements underway along the I-70 mountainous corridor," said CDOT Chief Engineer Steve Harelson. "Other highlights along the corridor include a new eastbound auxiliary track between Frisco and Silverthorne and the West Vail Pass Aux Lanes project." Both auxiliary track projects are now underway and will resume after a winter shutdown next spring. Work on significant safety improvements further east on Floyd Hill will soon begin.
"I want to thank CDOT for the improvements along the I-70 Mountain Corridor," said Steve Greer, interim assistant county manager for Summit County. "These improvements to I-70 in Summit County and along the corridor are critical to the economic success of communities here."
Near the Eisenhower Tunnel, Kraemer North America crews replaced a malfunctioning culvert serving an underpass under I-70. The underpass or "box" enhances the structural integrity of I-70 at this location, ensuring safe access for emergency services to motorists and efficient maintenance and plowing operations.
"This is the most critical culvert on Colorado's state highways," said John Lorme, director of maintenance and operations. "It can continue to provide critical access for services necessary to keep I-70 safe and open to the public." This includes CDOT plow drivers, the Colorado State Patrol, towing and other emergency services."
The project was completed on time and on budget. The new structure is only open to authorized vehicles such as snowploughs, emergency services and law enforcement agencies and is operational during the upcoming winter driving season. The previous structure, a single lane concrete box culvert, was built in the late 1960s during the original construction of I-70. The old structure was in poor condition and considered functionally obsolete.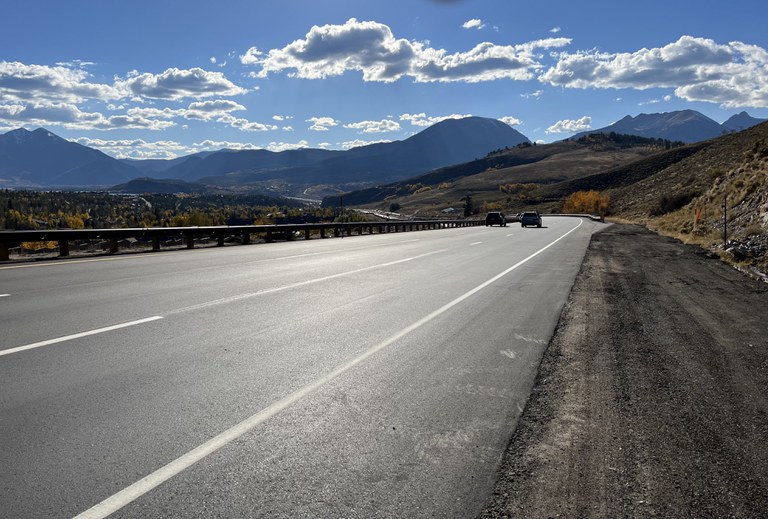 "Thanks to historic investments in transportation through measures such as the state's historic bipartisan transportation law and new federal funding, we are finally picking up the backlog of major repair needs around the Eisenhower Johnson Memorial Tunnels, which are requiring approximately $150 million in long-needed repairs. said CDOT Executive Director Shoshana Lew. "As we complete these important safety projects in the critical section of the I-70 mountain corridor surrounding the tunnels, CDOT will rapidly make further improvements to the area over the coming construction seasons."
During the 2022 construction season, crews with Elam Construction resurfaced I-70 east and westbound from Silverthorne to the Eisenhower Johnson Memorial Tunnel. Final work on the I-70 Silverthorne to EJMT Resurfacing Project will be completed this week as crews complete the marking (painting) work.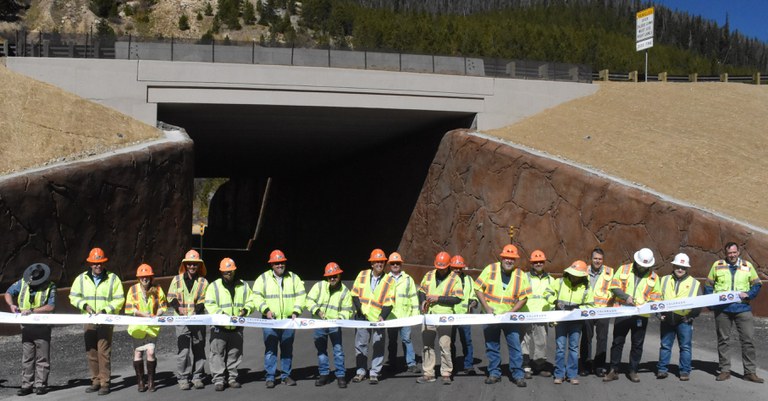 "This is a challenging stretch of road to complete road construction projects," said Jason Smith, Region 3 Transportation Director. Engineering teams worked closely with each other and with CDOT maintenance teams to optimize traffic impact wherever possible and complete these projects with limited construction time."
During the resurfacing project, work took place along I-70 for 5 miles from approximately Mile Point 206 at Silverthorne to approximately MP 212 just west of the Eisenhower Johnson Memorial Tunnel. Crews placed a 2-inch layer of hot mix asphalt, installed a new guardrail, repaired the end gangway rails and bridge rails, and installed the culvert. The crews also carried out important bridge work.
The hot mix asphalt extends highway life by approximately 10 years, provides a smoother road surface and increases durability by increasing resistance to rutting and road damage. This allows for a smoother and safer ride for motorists. The new crash barrier is 31 inches high and was designed to meet the requirements of the new safety standards. The higher railing will help swerving vehicles stay on the road more effectively, making the highway safer for the traveling public. The former standard guardrail height was 27 inches.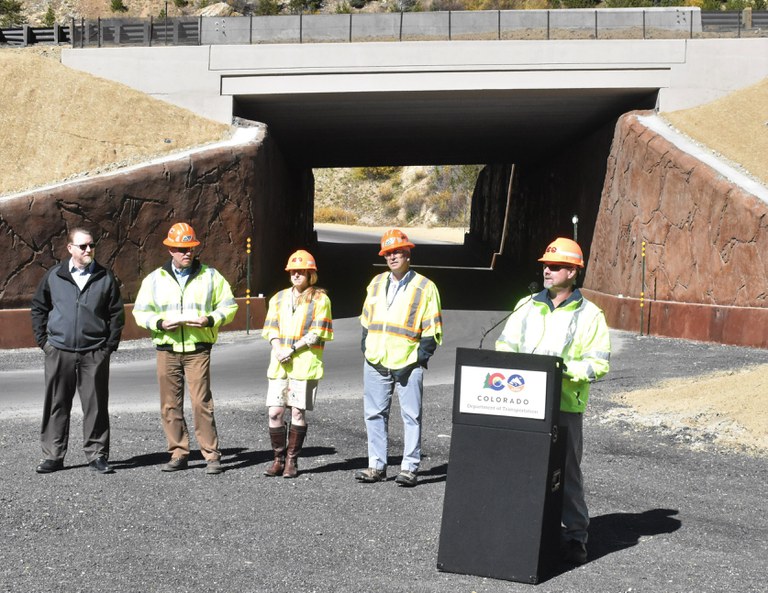 More on the I-70 structure replacement
During construction, project teams safely managed 11 traffic switches and four separate girder installations while maintaining reliable interstate travel, sometimes in challenging continental divide terrain and weather conditions. Crews maintained two westbound lanes and three eastbound lanes using various lane closure strategies to keep traffic moving efficiently. Successive shifts of traffic west and east on I-70 allowed the project team to install trusses and build the new bridges along I-70 under tight right-of-way conditions.
Crews completed the westbound bridge in 2021 before entering a winter hiatus. When the team returned to work in April, they first built the remaining eastbound bridge, crash barriers and a permanent concrete barrier.
At the same time, crews demolished the old box culvert underneath the freeway while they built the new underpass and reconstructed about 1,900 feet of the access road. The new structure is 36 feet wide, allowing two-way traffic and improving the approach's turning radius. The new underpass will provide safe access for emergency services to assist motorists and more efficient maintenance and plowing operations.
Upon completion of the new bridge and median, the project team repaved and regrazed I-70 to the project boundaries. The final product also includes erosion control measures, landscaping, and aesthetic components.
Other I-70 projects
Other projects on I-70 are taking place in close proximity. These each have their own general contractors and construction teams. For more information on these projects, visit the project-specific websites or visit COtrip.org for real-time impact on CDOT projects statewide. I-70 construction teams are in close contact to keep the public informed.