FORT HOOD, TX- Promoting energy resilience and upholding the mission while safeguarding the future is the goal of the specialist shop for the Department of Operations and Maintenance of the Directorate of Public Works here.
When the lights went out during the Energy Resilience Readiness Exercise in March 2022, the Specialties Shop was challenged to develop and implement an innovative solution to identify the existing security risks.
"During the ERRE, power was shut off in most installations and all crossings went dark, which posed a major hazard," said Nick Campagna, head of specialty business at DPW. "It was a 'be careful when you go through these intersections' situation. So my team said, 'Hey, what can we do to design a backup power system that will keep these signals operational during any kind of power outage?'"
Israel Santiago, Electronics Engineer, and his colleagues are leading the fight against power outages affecting traffic intersections with an in-house developed UPS or uninterruptible power supply.
"I came up with the idea and got permission from my manager to test it, and the rest of the traffic team jumped in," he said. "Our other sections also contributed ideas. I love that about our shop."
Santiago explained that UPS began by setting up manual transfer counters at the more than 60 intersections on the other side of the post office, but through research, teamwork, and leadership support, the UPS initiative evolved.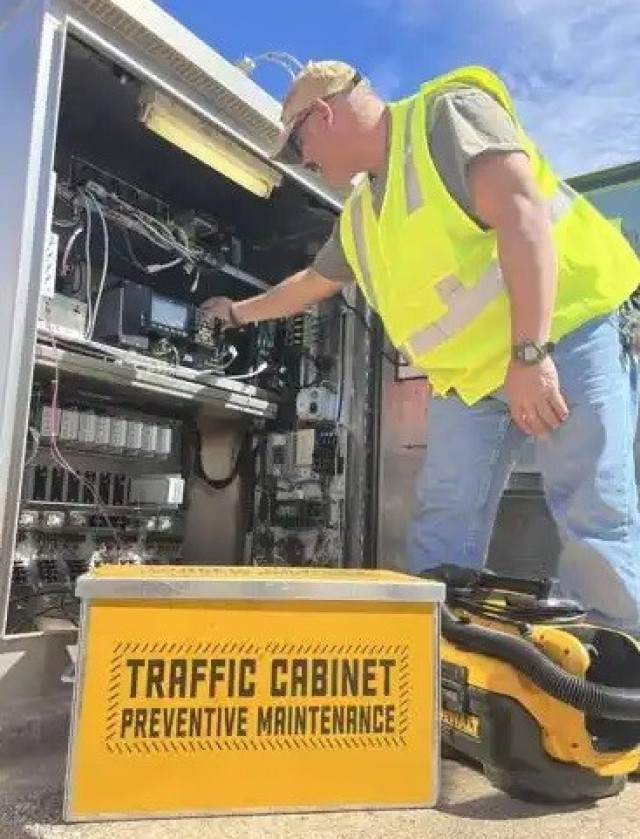 "Right now I can restart any intersection with my work truck and an inverter," he said. "But we are also developing a system where the power supply switches automatically and stays on long enough for our team to temporarily provide power longer or the grid is available again."
The manual bypass allows the DPW team to provide backup power from an external source such as a battery bank, DPW vehicle or solar trailer. Then the team developed an automated transmission method for emergency power.
"This is not just a cost saving, it's a lifesaver for Fort Hood. If we lost power at an intersection during the lunch break, it would be chaos," Campagna said. "But if we lost power now, this automated UPS will take care of the problem. Soldiers would not notice any difference if the UPS continued to operate at crossings."
Through extensive research and testing on their simulated traffic simulator, the team developed a solution to create an automated UPS at a fraction of the $15,000 market price for the industry.
"The core of our UPS comes from the RV (Recreational Vehicle) industry. These are all off-the-shelf, readily available components," said Justo Andaluz, Electronics Engineer at DPW. "Nothing here is traffic specific. The Traffic Closet doesn't care as long as it gets power."
Although the batteries for the UPS require minimal maintenance and have a guaranteed lifespan of up to 80 percent of maximum capacity for 10 years, the DPW team regularly inspects each traffic cabinet on a quarterly basis to ensure the system and internal components.
Santiago's innovative, energy-resilient traffic light solution recently earned him the recognition of Brian Dosa, DPW Director of Fort Hood on October 21. Dosa highlighted the amazing work that DPW's 400 employees do every day, then pointed to Santiago's achievements as the neighborhood's DPW payroll employee.
"When the power goes out and the lights don't work, chaos ensues. When the power comes back on, the traffic light usually flashes red, and that doesn't do very well with so much traffic trying to go through the intersection," Dosa said. "Israel and the team are doing an excellent job of preserving and maintaining all of these things. We said maybe we can make our transport hubs better. Israel was key to developing a backup power system in the traffic closet itself. We will take this idea and apply it to other major crossings at Fort Hood."
With the success of the first automated UPS at TJ Mills and Tank Destroyer Boulevards, the DPW team developed a plan to improve Fort Hood's energy resilience. Internal components for four more automated systems will be arriving shortly and efforts will continue into the new year to install the automated UPS at all busy intersections.
"These lessons learned and successes need to be shared with others," said Campagna. "With these tools, military organizations can do their part to improve the safety of our soldiers and their families, and have peace of mind that traffic lights won't go dark during a sortie."